The Winnebago Travato Camper Van


Class B Touring Motor Homes from Winnebago Industries
The Future is Now...The Winnebago Travato
Based on the powerful, fuel-efficient Ram ProMaster® chassis, the Travato® has been at the forefront of the B-van revolution since its launch. The Travato includes premium features such as Corian® countertops, energy-saving Truma Combi™ eco plus heating, and the WinnSleep® sleeping system. With significantly upgraded standard features like 215-watt solar panels and multiple interior décor colorway options, alongside several options, you can tailor the Travato to suit your needs.
Winnebago Industries® introduces the most powerful advanced energy system in its class with the Lithium powered Winnebago Travato® 59GL and 59KL. Equipped with the compact and easy-to-use Pure3 Energy Management System which comes standard in the Travato® 59GL and 59KL. Pure3is built with advanced engineering and a simple user interface so you can have confidence and peace of mind as you travel down the road.
This fully integrated system includes a powerful 3,200-watt pure sine inverter that offers 30 amps. of power at any time, powering air conditioning and appliances wherever you go. The best part of this hassle-free system is that it operates with the push of a button and a simple analog gauge that tells you how much energy remains. With the same automotive-grade technology used in hybrid vehicles and EV applications, the advanced energy system provides better value, ease of use, and confidence as you travel, live, work, and play.
For a whole new level of Class B travel, the Winnebago Travato doesn't just enable your adventurous spirit, it enhances it to the fullest.  Come check out the Winnebago Travato and choose your new home on the road today!



Winnebago Travato Floorplans|Specifications|Interior Options
Floorplans
Winnebago Travato 59G Floorplan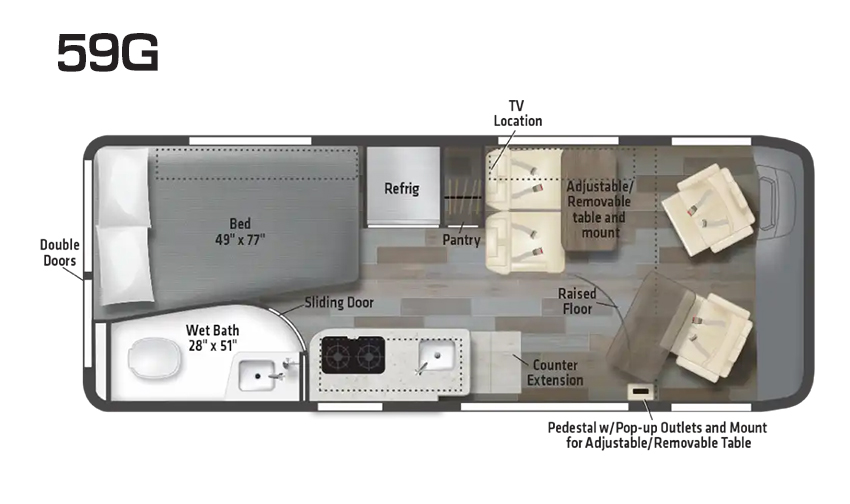 Winnebago Travato 59GL Floorplan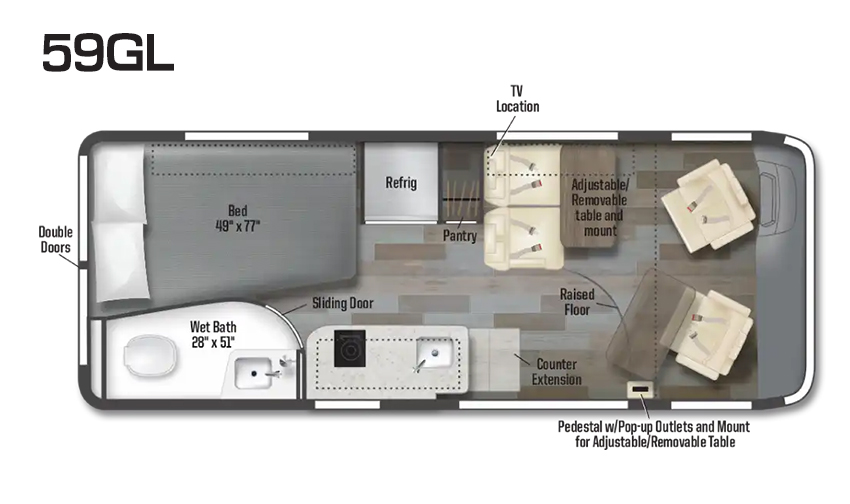 Winnebago Travato 59K Floorplan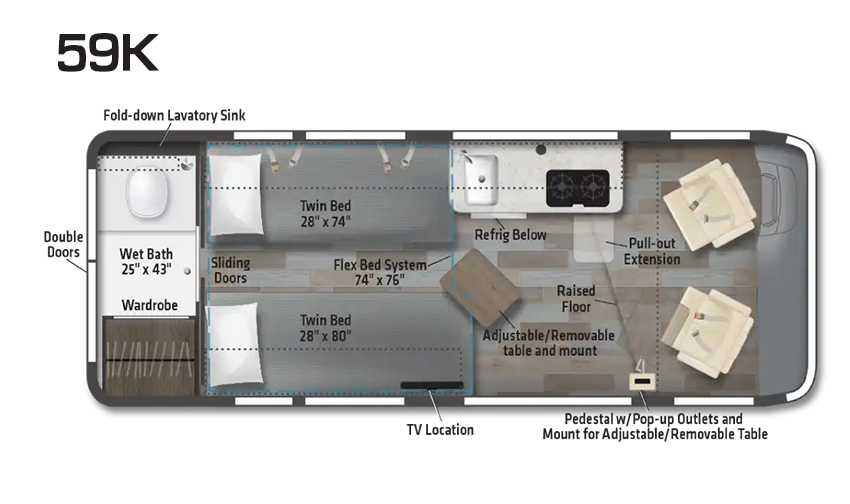 Winnebago Travato 59KL Floorplan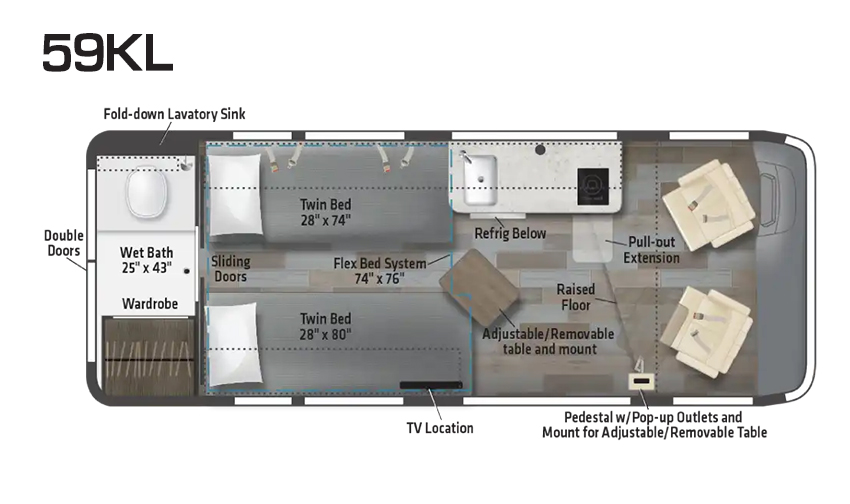 Specifications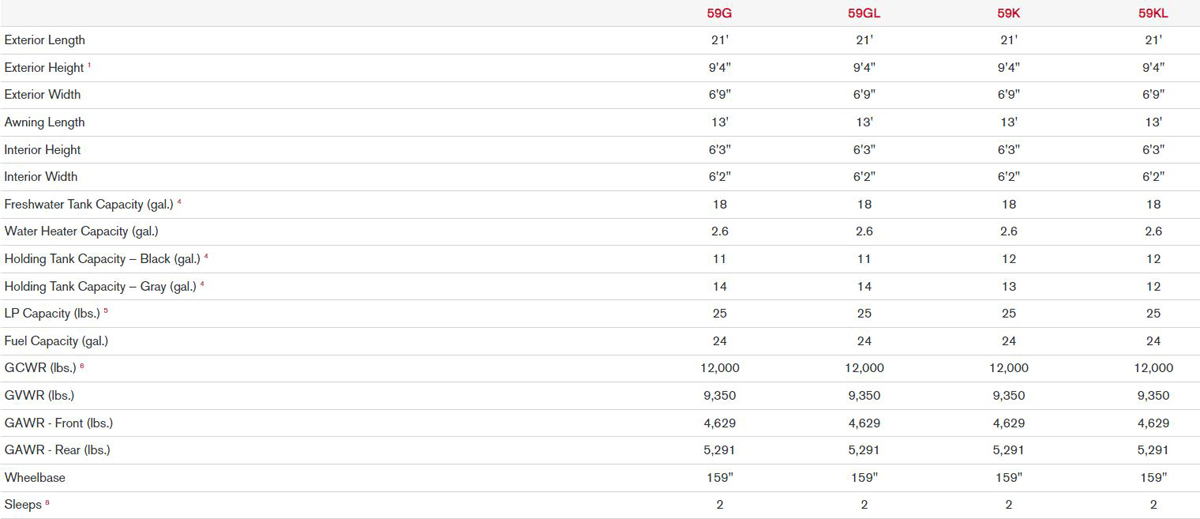 Interior Options
Winnebago Travato Bleu Interior with Walnut Wood Cabinetry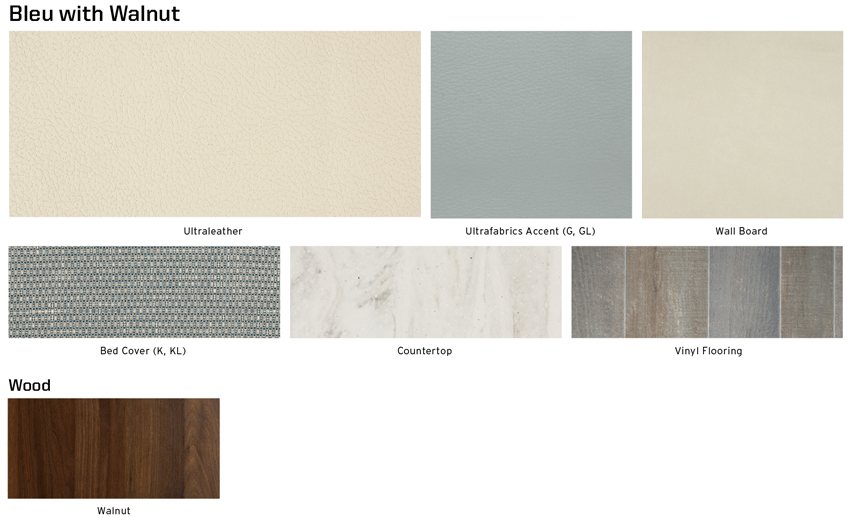 Winnebago Travato Bleu Interior with Walnut Wood Lower and White Upper Cabinetry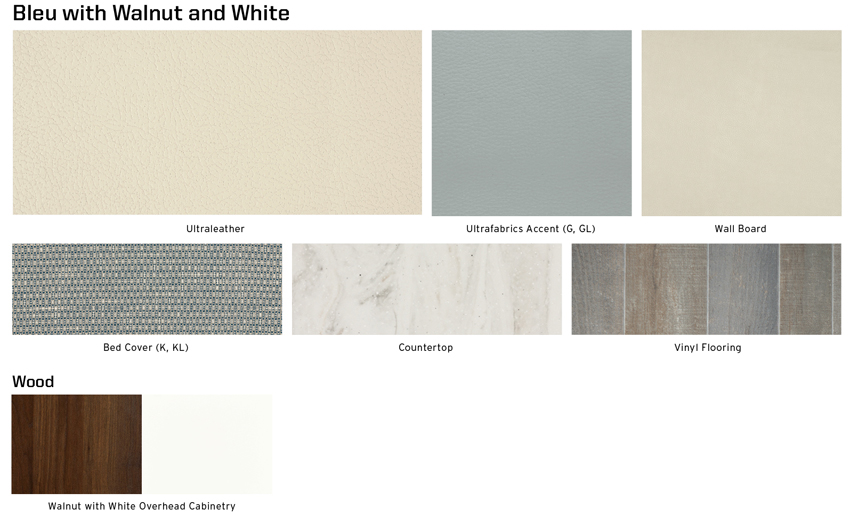 Winnebago Travato Bleu Interior with Weathered Teak Wood Cabinetry